Salons for Sanctuary Exhibition at Milk Glass May 12 to June 5 2016
"SANCTUARY" original artworks by Hooley McLaughlin, curated by Anielika Sykes, runs from May 12 to June 5 2016 at Milk Glass Co.
- 1247 Dundas Street West, Toronto; Wednesdays to Saturdays 1:00 to 8:00 pm, Sundays 1:00 to 5:00 pm, or by appointment.
There will be discussions on the exhibition themes at our Thursday Salons.
Join us at any time these evenings. Everyone is welcome.
Thursday May 19, 4:00 to 8:00 pm
"The Annunciation of the Virgin Mary as interpreted through the rape of Temple Drake depicted in William Faulkner's novel Sanctuary."
The artist will be present.
Thursday May 26, 4:00 to 8:00 pm
"Violent sexual themes in religious art and inter-cultural conflict and miscommunication."
The artist will be present.
Thursday June 2, 4:00 to 8:00 pm
"Can feminist values be depicted in violent erotic religious art?"
The artist will be present.
"Sanctuary" – 1.) place of refuge or safety, especially for someone being chased or hunted; 2.) consecrated area of a church or temple around its tabernacle or altar; 3.) 1931 novel by Nobel Prize winning author, William Faulkner. The story focuses on a wealthy 17-year-old Mississippi college girl named Temple Drake. The impotent existentialist character, Popeye, using a corncob, viciously rapes her.
The artwork in SANCTUARY explores religion and a woman's body.
There are two major themes:
One.) Annunciation (impregnation) of Mary and her elevation to Sainthood and adoration as the Virgin Mother of Jesus;
Two.) Reënactment of the Virgin Mary's "annunciation," or rape, as interpreted
from Faulkner's Sanctuary.
The drawings and paintings are deliberately sensuous and lush, depicting the ambivalent violence of louche sexual bondage, and the revenge of slow beauty.
Below - the Sanctuary Series from the exhibition - a portion of the drawings and paintings on display in the Sanctuary Exhibition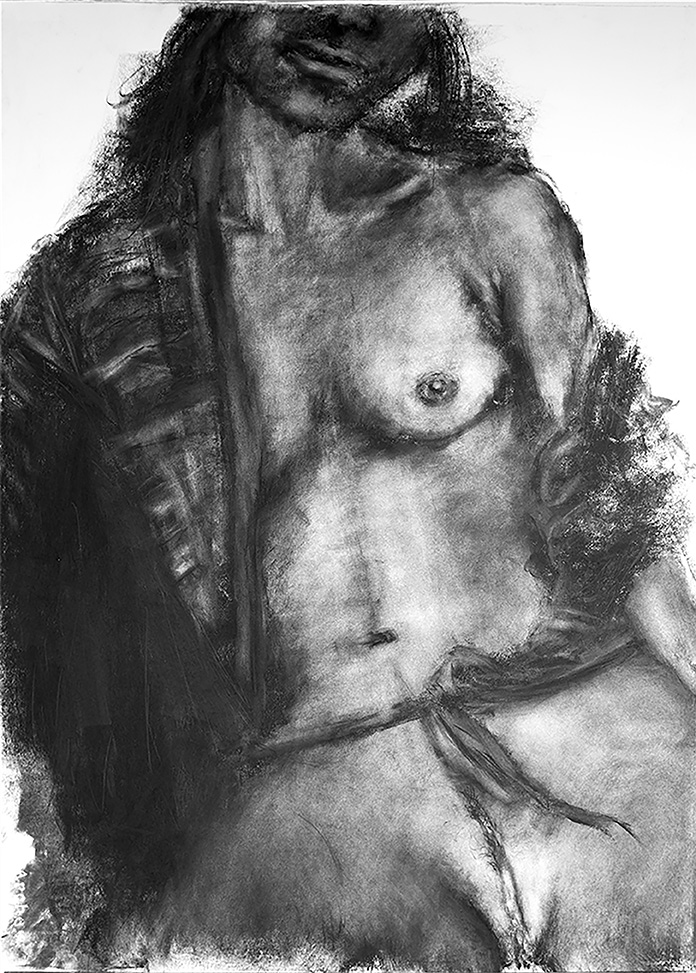 Above - Sanctuary Series # 1 - "Thinking about Gowan Stevens before the Dance" – Vine Charcoal on Arches Paper, 22"X30", 2016 
Above - Sanctuary Series #2 - "Thinking about Gowan Stevens before the Dance" – Vine Charcoal on Arches Paper, 22"X30", 2016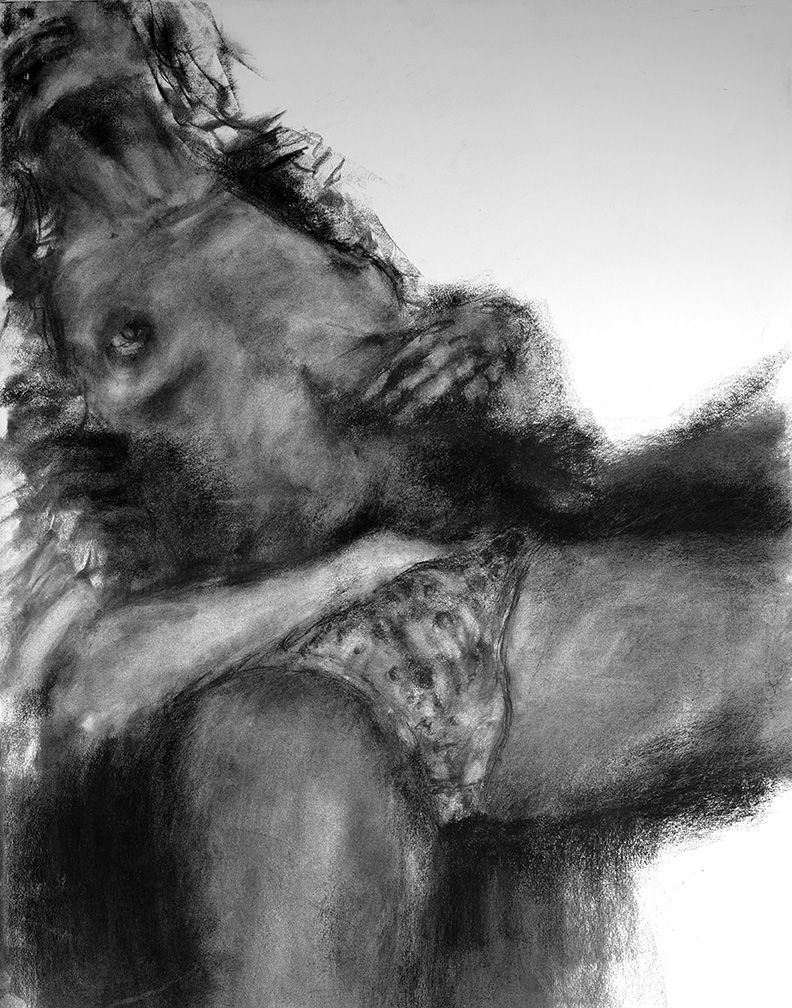 Above - Sanctuary Series - #3 – "Remembering Popeye's secret molestation during the night at the moonshiner's farm" – Vine Charcoal on Arches Paper, 22"X30", 2016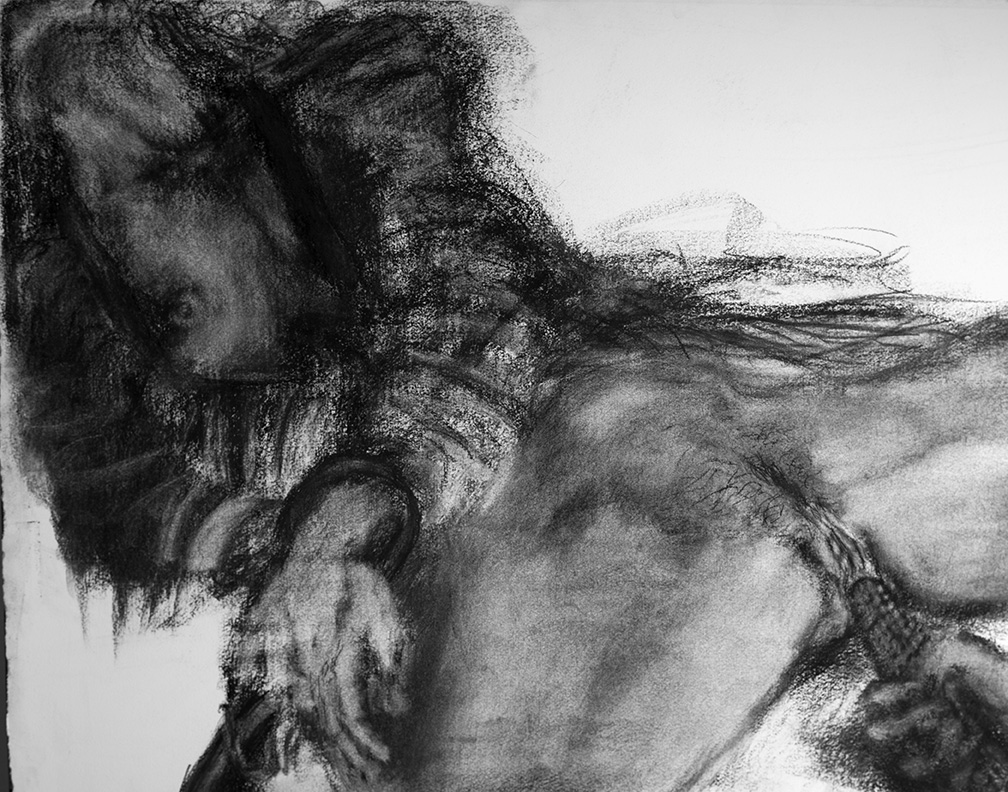 Above - Sanctuary Series #4 – "The Annunciation - the Raping of Temple Drake with a corncob by Popeye, in the barn the next morning" – Vine Charcoal on Arches Paper, 30" X 22", 2016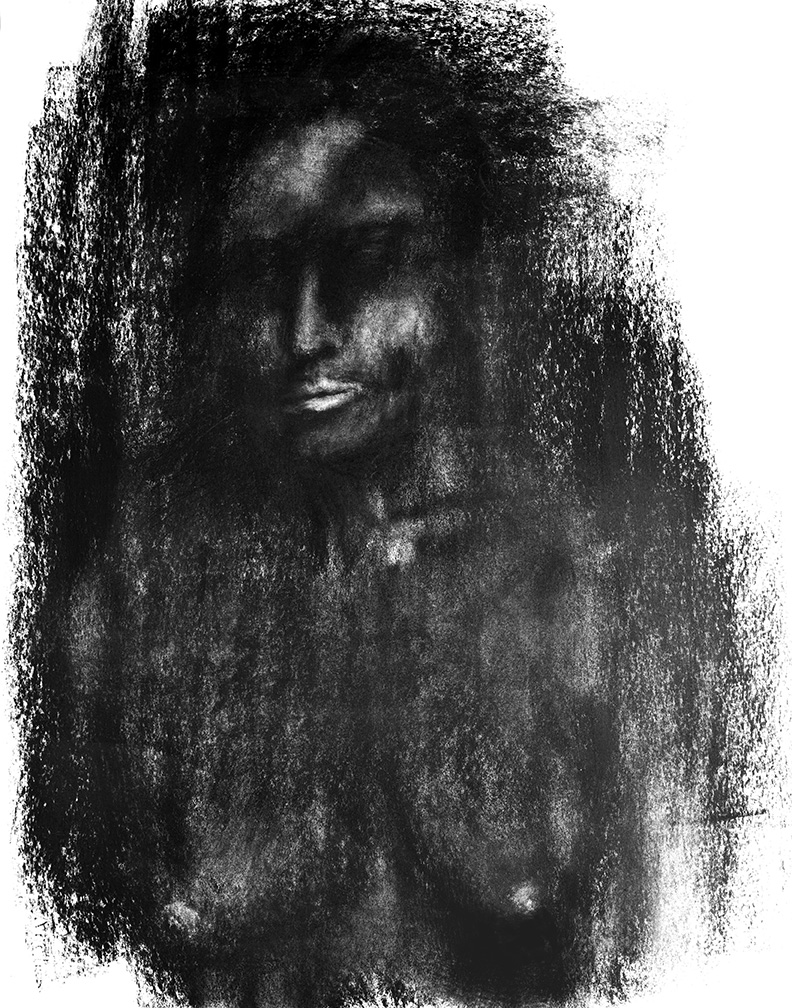 Above - Sanctuary Series #5 – "After the Rape – Santa Maria, Madre di Dio" – Vine Charcoal on Arches Paper, 22"X30", 2016